The moment you learn that your family member is unwell, you want to do whatever you can to wish them as quick a recovery as possible. This may involve cooking for them or helping them run errands. As much as we would love to be able to physically help someone, we don't always have the time or the ability to do so. When that happens, you can cheer them up with some beautiful get well soon flowers.
Seeing flowers lets others know you're thinking of them, which helps lift their spirits and encourages them to recuperate more quickly. Unfortunately, not all flowers are suitable for get-well gifts. Take a look at some of the most meaningful floral arrangements you can present to your sick loved one.
1. Allergy-free flowers: Chrysanthemums, Roses, and Carnations
In the event your loved one is in the hospital or suffers from allergies or illnesses worsened by pollen, make sure your arrangement consists only of hypoallergenic flowers. Among the most beautiful, allergy-friendly flowers are roses, hydrangeas, peonies, and orchids.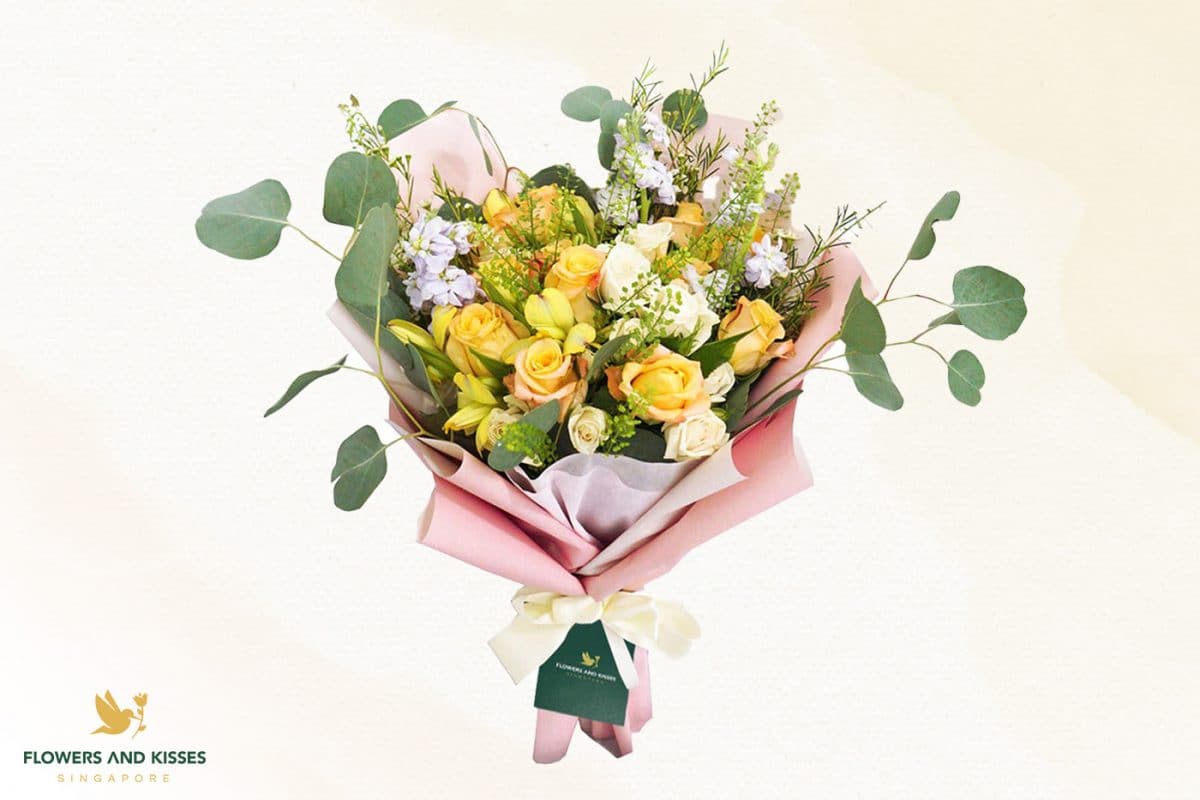 There are some colours that are more vibrant and energizing than others. Colours like red, orange, yellow, and their various shades provide the best "pick-me-up" effects – perfect for lifting the spirits of your sick family member. Our Candice rose bouquet comes with 18 Orange Roses, Cream Rose Spray, Mathiola, Thlaspi, Alstromeria, and Foliages. A rose bouquet accompanied by sweet treats like chocolate will surely give your loved one an additional boost and give them the motivation to get better.
2. Low-maintenace flowers: Hydrangeas
Despite their high-maintenance appearance, hydrangeas are actually relatively easy to maintain under the right conditions and care.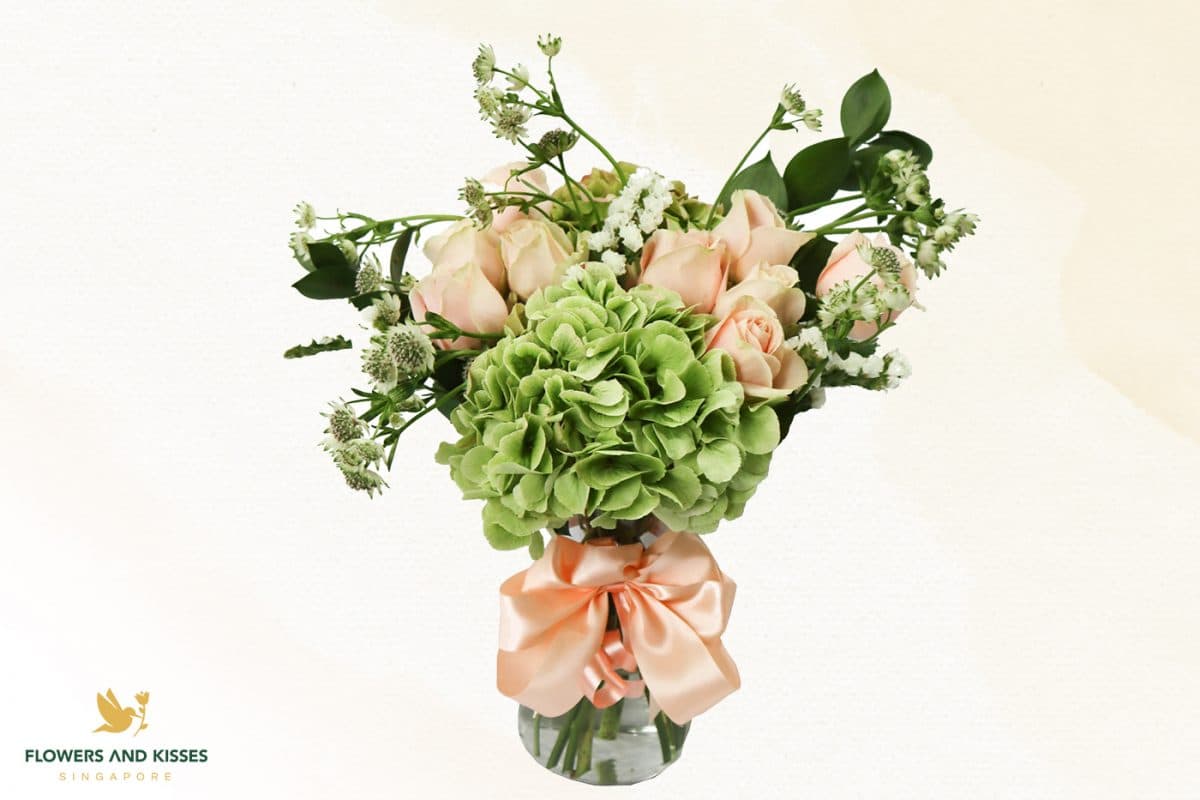 When someone is in the hospital or recuperating at home, it is unlikely they will have the time or energy to deal with care for flowers. Therefore, if you want to send get well soon flowers make sure they are water-efficient and don't need to be pruned often. Choosing flowers that last for several days will ensure that the recipient can enjoy them for a long period of time. It's true that some blooms last longer than others, but sourcing fresh flowers is the key to enduring flowers. Here at Flowers And Kisses, our florists only work with fresh flowers to create our calming flower bouquets, which guarantee that your recipient will receive only the freshest blooms that's sure to enliven them.
3. Flowers in small arrangements
No matter where your loved one is recuperating, they are likely to spend a lot of time in a room with caregivers or hospital staff, which means an elaborate floral arrangement could get knocked over. To keep your gift safe, use a durable container such as a wicker basket instead of a glass vase. We recommend opting for a more compact floral arrangement as it's more fuss-free as well.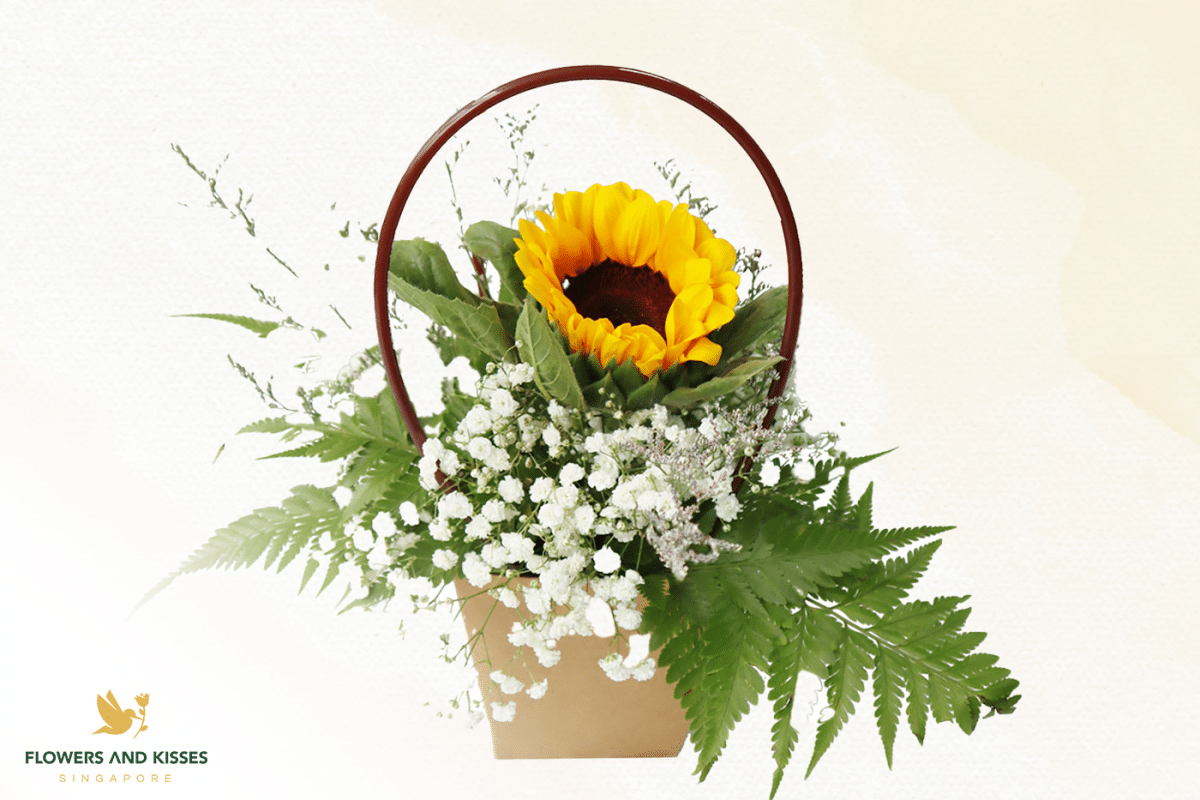 Having trouble finding the perfect, compact get well soon flowers? You can start your search on our website as we have a wide selection of fuss-free floral arrangements that's perfect for your ailing loved one. Our selection includes single stalk flowers, fresh blooms in plain vases, and gorgeous flowers in an envelope box that are convenient to carry around.
Flowers To Wish Someone A Quick Recovery
Make your loved one's day with a gorgeous get well soon floral arrangement from Flowers And Kisses. Based in Singapore, our florists have helped our customers express their deepest emotions when words can't do the trick. Our beautiful blossoms are the perfect way to wish your friend or loved one a speedy recovery.
Explore our captivating bouquets online, and contact us today to schedule a delivery. We can deliver your bouquet for free* on the same day in Singapore!
*We offer free delivery fees to all locations, except Sentosa and Tuas.