Since the beginning of the pandemic, many people have converted large-scale activities into virtual events to comply with social-distance measures to combat the spread of COVID-19. This makes it especially difficult for us to celebrate important milestones in life, like wedding receptions and graduation ceremonies. Even though celebrating these important events virtually is the new norm in the age of social distancing, there is nothing quite like celebrating special occasions with your loved ones around.
In tough times like these, even the simplest gesture like receiving a bouquet of flowers can serve as a wonderful reminder that someone is thinking of you. With graduation season inching closer, it's time to celebrate their hard work and what better way to congratulate them than with a graduation bouquet? Here are 4 types of graduation flowers to make your graduate's day extra special:
1. For someone with a sweet tooth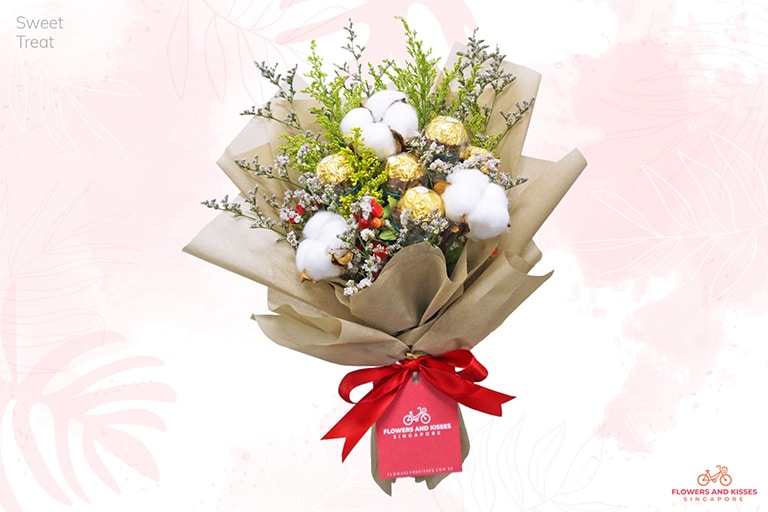 Have a friend who enjoys sinking their teeth into all things sweet? Make your loved one's day with our Sweet Treat bouquet. This simple, yet delightful graduation bouquet includes fresh Hypericum Berries, pretty Cotton Flowers and is topped with Ferrero Rocher chocolates. Chocolate graduation bouquets, like traditional flower bouquets, are not only visually appealing but also come with the added advantage of being an edible bliss. Feel free to put in a request to our experienced florists if you have a specific colour theme or style in mind!
2. For someone soft-hearted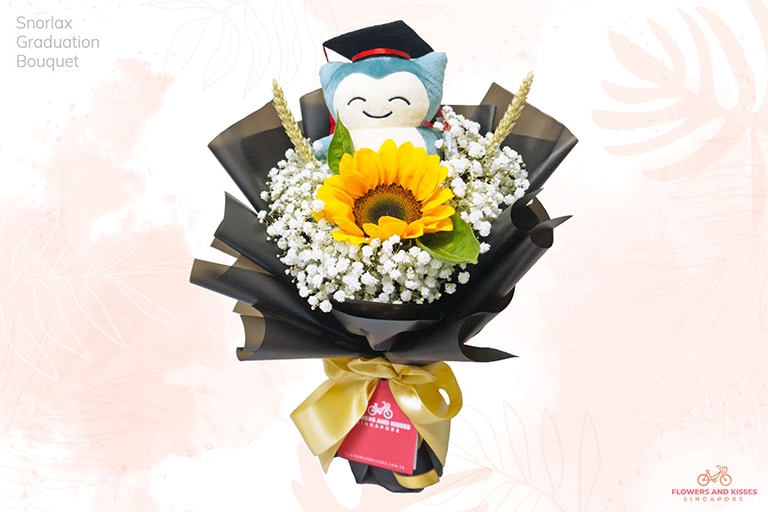 Our Daisy Snorlax Graduation bouquet is a great option for a friend who has a soft spot for plush toys. It's hard to resist this adorable plush graduation bouquet when it is well-decorated with beautiful floral arrangements that consist of luscious Gerbera Daisies sitting on a bed of colourful Baby Breaths. Known as the "Sleeping Pokémon", the Snorlax plush toy even has a mortarboard atop its head to commemorate your loved one's special day!
If you are looking for something more bright-coloured, then the Chipper The Bunny graduation bouquet would be right up your alley. These playful graduation flowers are made up of the classic Rose flowers, coupled with dyed Baby's Breath flowers to give it a more upbeat look! The little bunny right in the middle of the graduation bouquet adds a whimsical touch to the already fun bouquet, giving the recipient something to remember you by even after the flowers have withered away.
Even after adding the bouquet to your cart, you have the option to make your graduation flowers extra special by adding another plush toy to accompany the bouquet for only $12.99!
3. For someone who loves personalised gifts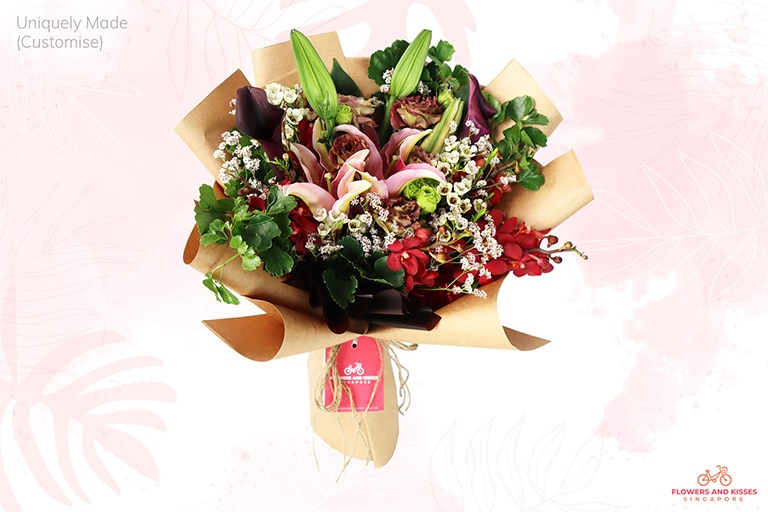 With our Uniquely Made bouquet, you are free to customise your floral arrangements. This graduation bouquet is especially great if your loved one is someone who loves a specific array of flowers. If you are unsure where to begin, start by choosing their favourite flowers and mix them up. It would be great if you take into consideration their favourite colours too. For those looking to put together a more meaningful graduation bouquet, you may consider going with their birth flower. 
All you have to do is pick a graduation bouquet theme and send us a brief description of your recipient as well as the occasion. Letting us know what colours you would like to avoid would be helpful too so that our team of florists will be able to curate the perfect graduation flowers for your loved one. Click here to view all of our custom-made flower bouquets done by our team of skilled florists!
4. For someone who loves a classic bouquet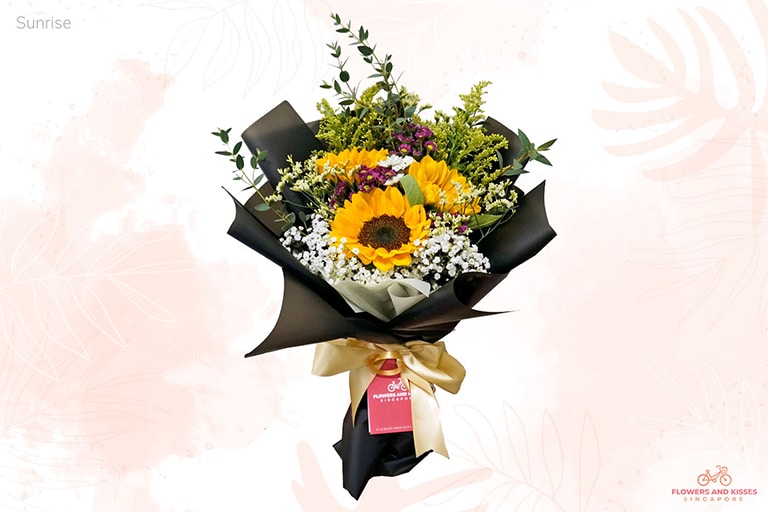 Last but not least, you can never go wrong with a classic bouquet of roses or sunflowers. We are located just next to a flower market, so our wide range of flowers is freshly picked every day. If you're looking for the perfect graduation flowers to brighten your loved one's day, you can count on our Rainbow Garden and Sunrise bouquets to do just that. 
The Rainbow Garden bouquet is an assortment of Baby's Breath that has been meticulously dyed by our florists. You can choose from three or six roses to be placed right in the centre of this beautiful bouquet. Alternatively, you can celebrate your loved one's intelligence with our Sunrise graduation bouquet, which comprises three sunflowers in full bloom, adorned with pom pom flowers, eucalyptus and yellow phoenix foliage. Yellow flowers typically symbolise friendship and happiness, making this bouquet the perfect graduation gift to uplift your loved one's spirits!
Graduation Flowers in Singapore
Although experiencing a virtual graduation ceremony isn't as lively as having a physical one, it isn't all that bad when you can send your loved one a fresh bouquet of flowers to celebrate this special occasion. Plus, being able to have it delivered right at their doorstep makes it much easier!
Located just next to a flower market, Flowers And Kisses is an online florist in Singapore that has a wide array of fresh flowers. Our flower bouquets are specially made according to our customer's specifications, and we provide same-day free* delivery for all orders placed before 4 pm. Reach out to our team to learn more about our bouquet of flowers!
*We offer free delivery fees to all locations, except Sentosa and Tuas.