Part I: Introduction
In this digital age, our fast-paced lifestyle can easily take a toll on our lives. Now more than ever, we are constantly glued to our digital devices as everything revolves around social media, whether it be for personal or for work purposes. On top of having to keep up with the hustle and bustle of everyday life, we also have to deal with this long period of isolation due to the pandemic. It's no wonder that our mental health is slowly deteriorating.
As we are all going through this global health crisis, many of us will find ourselves feeling lonely at some point. That is why experts recommend exercise and other lifestyle changes as a way to relieve stress. According to research, the environment we're in plays a huge role in our mental well-being and studies have shown that nature provides us with a simple way to enhance our mental health: flowers. Since ancient times, flowers have triggered happy emotions and influenced our social interaction in a positive way. Flowers come in a myriad of colours, and some flower scents even have calming effects that can induce sleep too. 
Flowers can convey human emotions regardless of the occasion, whether it is giving a birthday flower bouquet, anniversary flowers or condolence flowers. Not only do flowers bring happiness to both the giver and recipient, but these beautiful blooms also have a fundamental impact on our mental health – reducing our stress while helping us find peace of mind.
Part II: Impact of Beautiful Flowers On Our Mental Health
2.1 Flowers boost creativity and productivity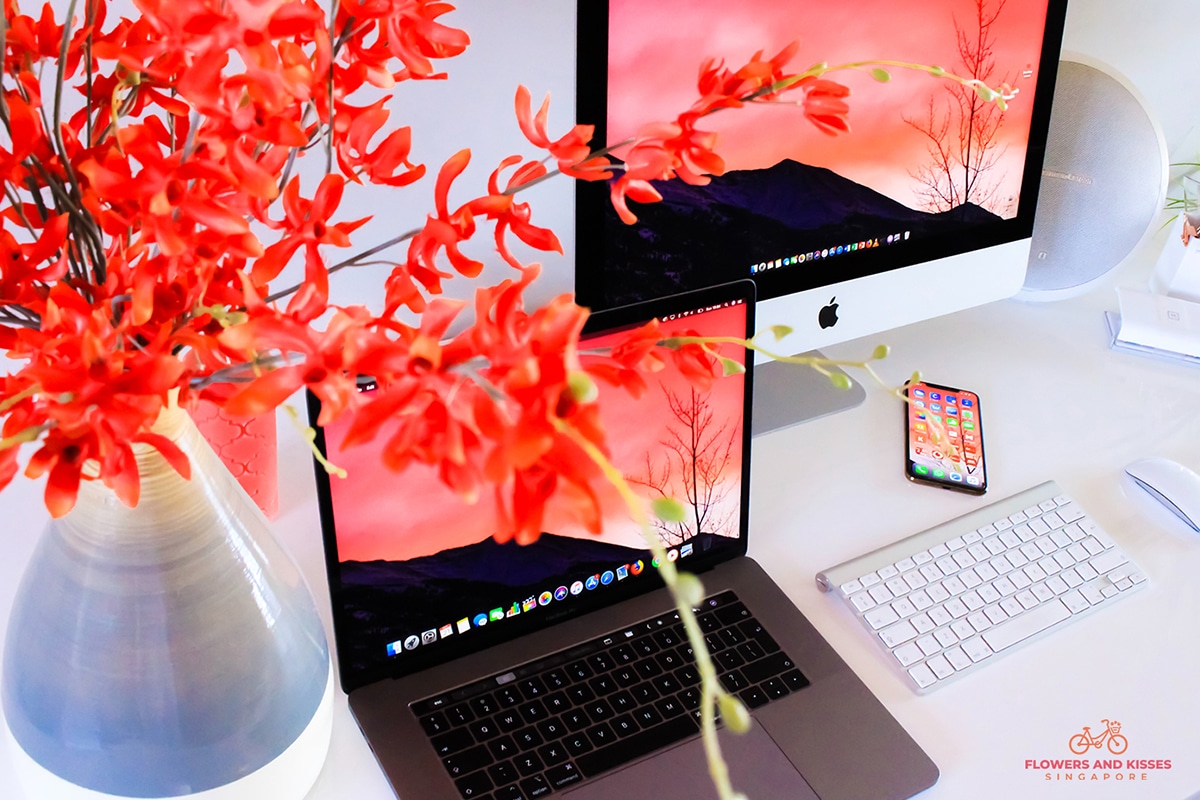 Sprucing up your home and workspace with flowers can help to boost creativity, productivity and sometimes even help with problem-solving. According to a study, a workplace filled with greenery and flowers helps in reducing stress and anxiety. Bringing a touch of nature into your workspace not only makes it more aesthetically pleasing, but it creates a welcoming atmosphere, making your workstation feel more warm and homely. People tend to produce better ideas and think more creatively when they feel comfortable in their workspace. 
Flowers that come in warm colours, such as yellow, orange and red, help in stimulating the brain and boost energy levels. If your job requires you to stay on your toes and think creatively, we recommend decorating your workspace with vibrant flowers like Sunflowers and Marigolds. However, if you're looking for something that can help ease your stress levels, try choosing flowers in cooler tones like blues and greens. Some flowers and plants that are well known for their calm-inducing qualities include Lavender and Jasmine. The shape of the flower and its floral arrangement also has the ability to influence your moods. For instance, flowers with curvy shapes tend to inspire relaxation, whereas flowers with spiky petals help to liven the mood.
Rather than tossing fresh flower bouquets you receive for birthdays or anniversaries in a corner, arrange them in a beautiful vase. Some places where you can display these flowers in your home include your dining area, bedside and your home office. Especially now that working from home is the new normal for many of us, we could use a distraction from time to time when work gets too taxing. Keeping flowers at home gives you the opportunity to water your flowers. A simple act of watering your flowers and plants in your home office can make you feel relaxed, as it lets you take a break from the mundane routine of your job and return to it refreshed and more focused. Apart from watering the flowers, some people are even turning to flower arranging as a form of creative expression. There's not much time for stillness and mindfulness these days, which is why more people are flocking to flower arranging classes to ease the tension of everyday life. If you're in need of a break, try looking into therapeutic flower arranging classes in Singapore.
2.2 Flowers create intimacy and build connections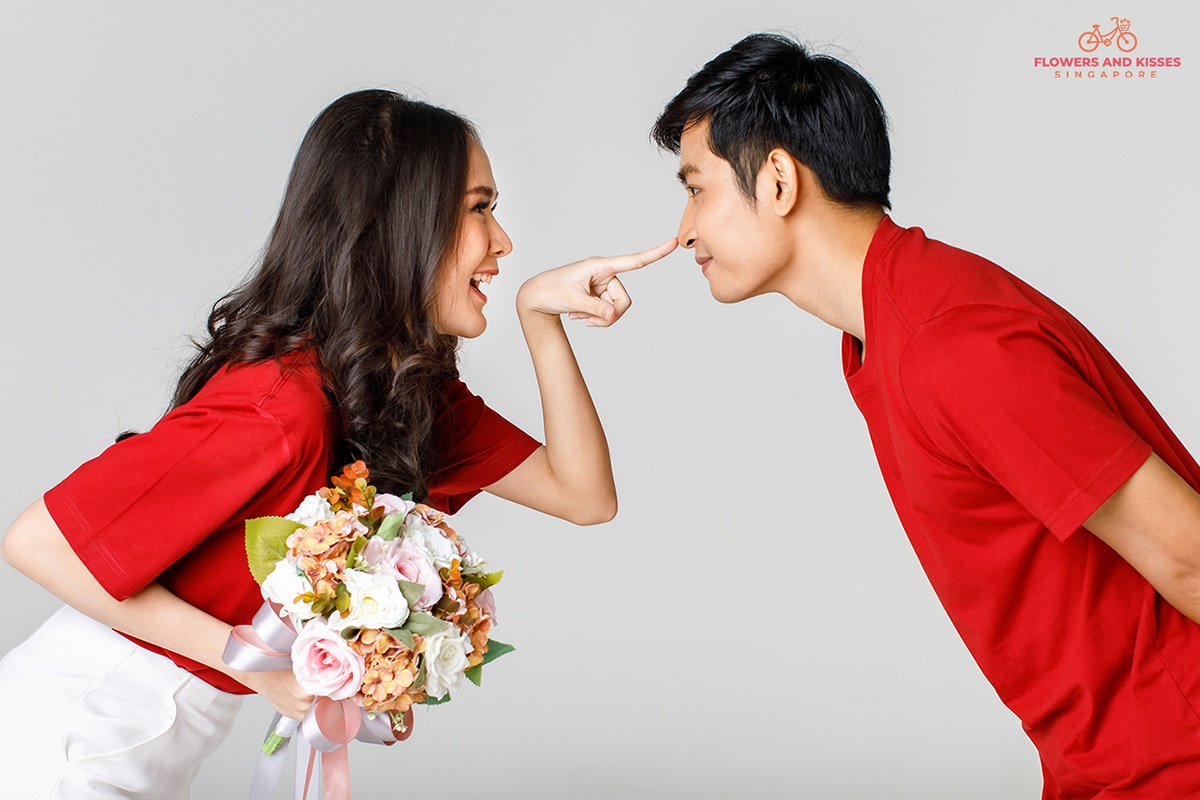 Traditionally, the act of gifting flowers expresses the desire to invest in a relationship. Hence, the act of giving (or receiving) flowers inspires intimate connections and is one way to strengthen relationships. As we become more digitally connected, we fail to realise how technology is disconnecting us from the real world. With many of us going through this tough period of self-isolation in hopes to combat the rise in Covid-19 cases, it's important to reach out to your loved ones and check in on them every once in a while. Sending a rose bouquet to a loved one, especially during difficult times like these, shows them that you care.
Today, the circumstances may keep us from being able to visit our faraway relatives, but that shouldn't stop you from reaching out to them. You can show them that you are always thinking of them by ordering flowers from an online florist and having them delivered straight to their doorstep. Flowers are also a great way to reconnect with distant family, reconcile with long-time friends, and build relationships with colleagues you don't see as often since working remotely from home has become the norm.
2.3 Flowers help to heal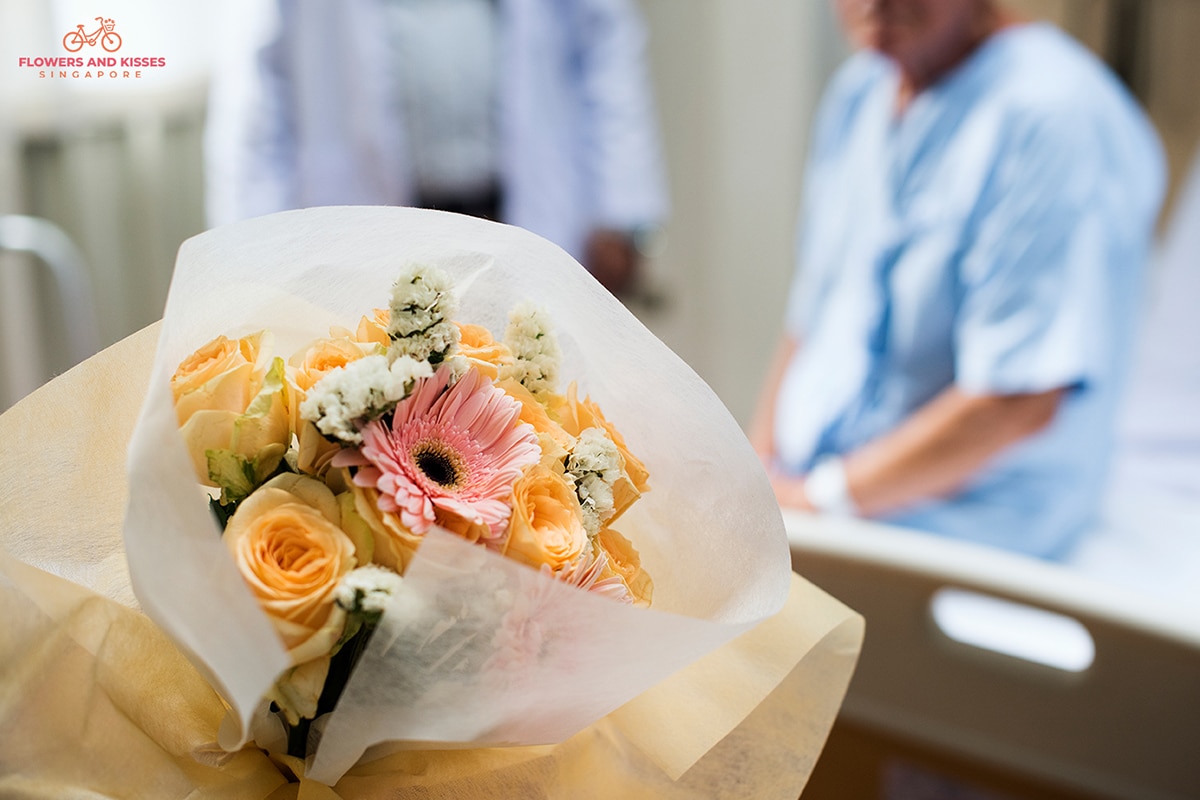 There's no better way to brighten the day of a friend or family member recovering from a sickness or injury than sending them a beautiful bouquet of get well soon flowers. It can be quite distressing to be stuck at home or in the hospital, which is why it is so important to select the perfect bunch of get well soon flowers that will make them smile, show you care, and aid their fast recovery.
Even though it might be tempting to purchase the biggest, brightest bouquet you can find to cheer up an unwell friend, keeping the flowers to a reasonable size makes it easier to handle, especially if your friend is in the hospital. Here are some basic tips when it comes to picking the right bunch of get well soon flowers:
Flowers that come in a vase would be ideal as they can be placed anywhere easily without any hassle.
Ask an online florist for bright-coloured flowers that require low maintenance.
Small floral bouquets are perfect for hospital patients as they are easy to carry home.
Low-allergy flowers and plants that don't contain pollen, such as Tulips, Carnations and Chrysanthemums, to avoid aggravating the allergies of both patients and visitors.
Alternatively, there are also healing flowers that have been used for thousands of years to treat everyday illnesses. From soothing the symptoms of a cold to easing the symptoms of insomnia, healing flowers can bring peace to the mind, body, and spirit. In case you're planning on gifting get well soon flowers that can help with your loved one's speedy recovery, here are some medicinal flowers that can be beneficial to their health: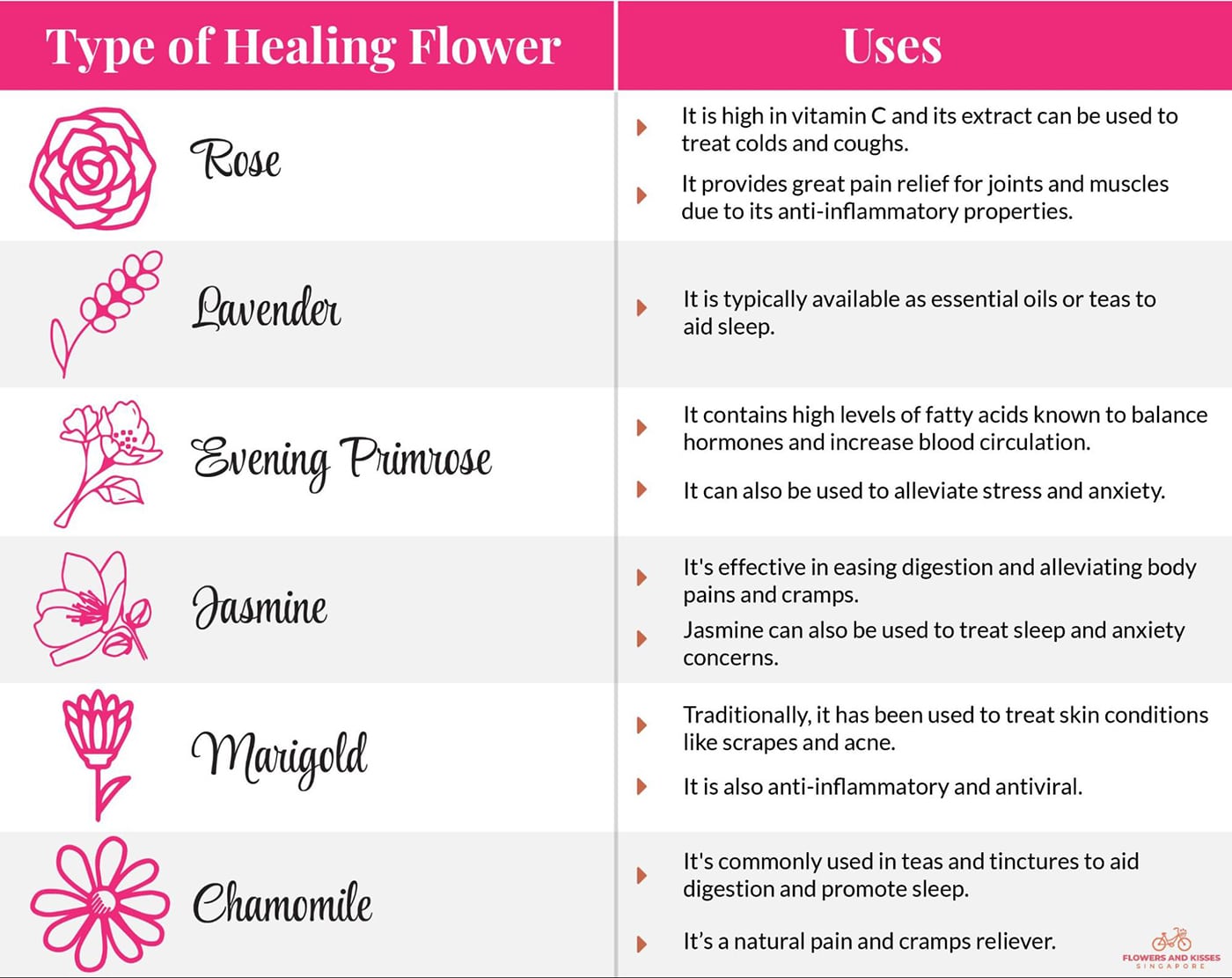 2.4 Flowers bring happiness to the receiver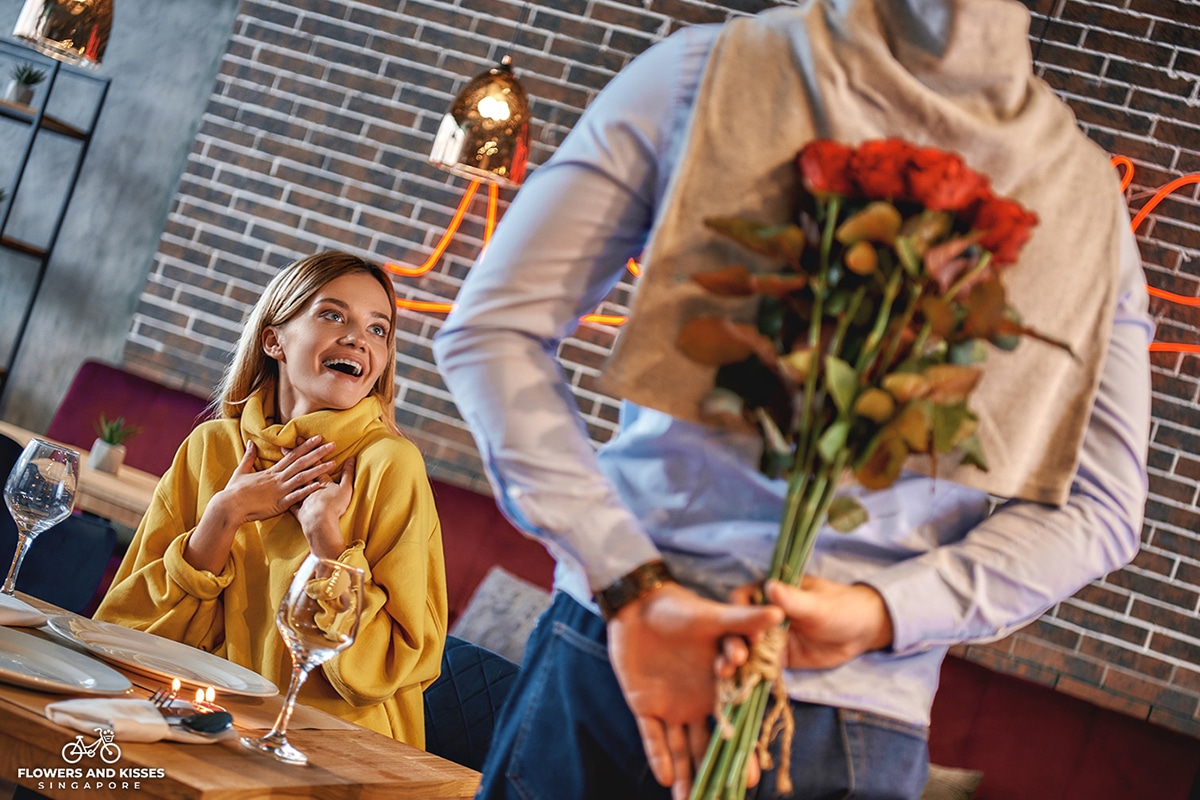 It is always nice to send anniversary flowers or birthday bouquets to your loved one to mark important occasions. However, when you surprise your loved one with a bouquet of fresh flowers even without an occasion, the gesture becomes even more meaningful. Although flowers are not essential, they are emotional: the cyclical nature of society causes us to look for even the smallest fleeting signs of joy. Beautiful flowers provide us with a brief source of comfort, with their colours, scent, and shapes.
In times of sorrow, sending flowers is also an excellent way to convey human emotions that cannot be expressed in words. When you're dealing with a time like this, you should reach for condolence wreaths or flowers to express your sympathy and show your support for the grieving family. Here are a few tips on selecting condolence flowers as a show of sympathy:
Any type of flower can be used for condolence flowers as long as they have been appropriately arranged by a florist. However, some flowers do have special meanings; for instance, white lilies for innocence, pink carnations for remembrance, and red tulips for love. Although many people pick muted colours for condolence flower arrangements, vibrant and lively floral bouquets can also be used to commemorate the life of the deceased.
Be sure to accompany your condolence flowers with a card and include the first and last name of everyone who contributed to the flowers. Most sympathy flower cards include simple messages like "With love and sympathy,", "Our thoughts are with you" or "I am so sorry for your loss".
There is no wrong time to send condolence flowers to a grieving family. If you only learned of the news after the funeral has already taken place, you can still send the family a thoughtful floral arrangement. If you are unsure how to proceed with sending condolence flowers, consult local online florists as they are familiar with local traditions and can provide detailed information about what colour patterns are preferred for the funeral service.
2.5 Flowers give the sender a sense of fulfilment
Not only does receiving flowers bring happiness to the receiver, but it also makes the sender happy too. It's human nature to love the warm, fuzzy feeling that comes with making another person happy. In fact, a study conducted by a professor from Harvard Business School found that spending money on someone else is more satisfying than spending it on oneself. It's important to continuously do the things that make you feel happy as it helps to nurture your mental health. And if doing acts of kindness for other people like sending flowers makes you feel good, keep doing the things that make you happy as it releases dopamine, a natural antidepressant that boosts your moods! 
If you want to spread good vibes to your friends and family, you can start by picking colourful flowers that can instantly uplift their spirits. Whether you're looking for a birthday flower bouquet or get well soon flowers, it's always a good idea to choose bright-coloured blooms to brighten their day. Pick bright yellow Daffodils, cheery Sunflowers or yellow Roses as yellow is said to be an uplifting colour that can help you stay upbeat even on dark days. Other than choosing bright-coloured flowers, you can also go with the recipient's favourite flowers or birth flowers. Here's a simple birth flower guide: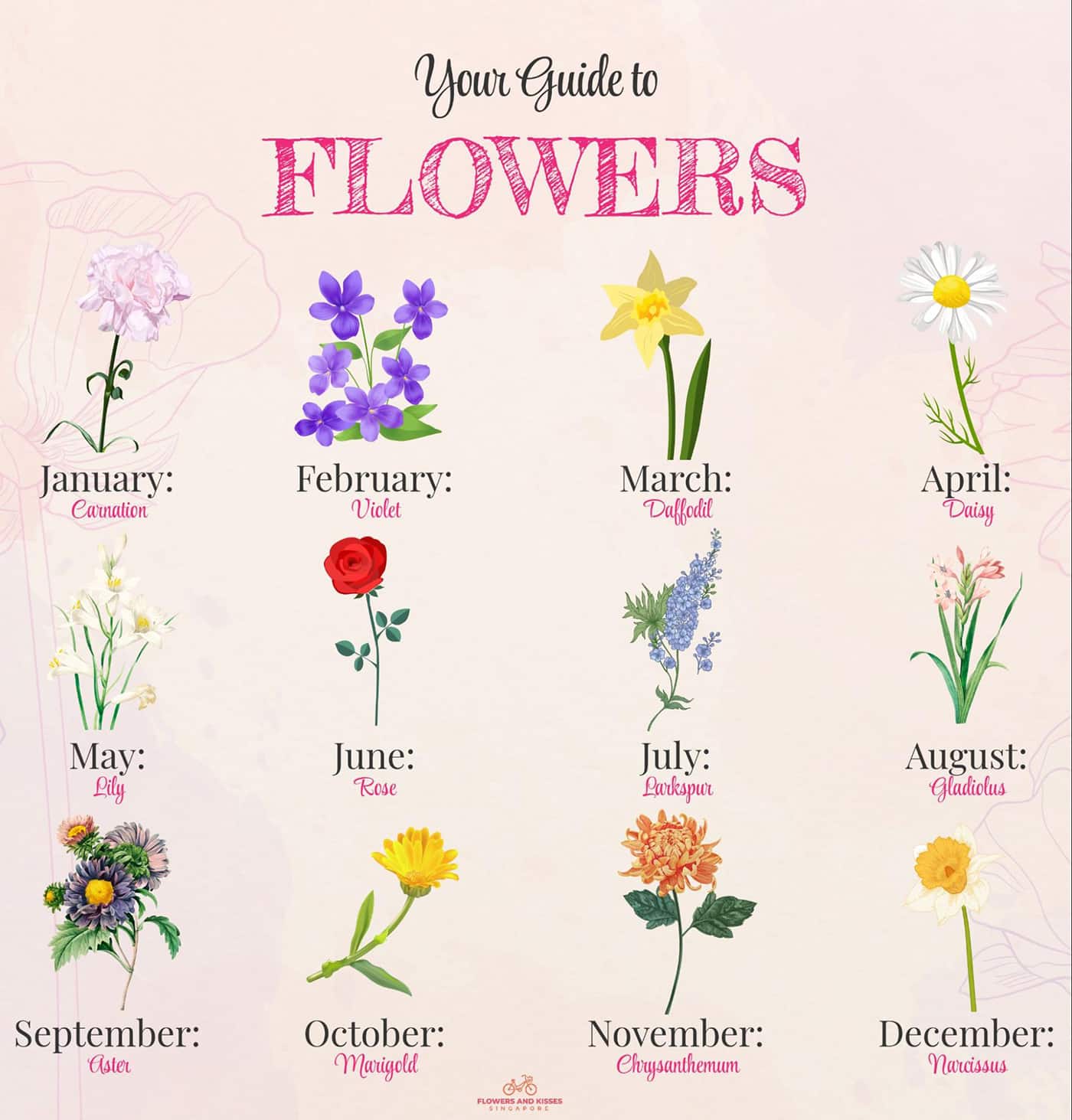 Part III: Blooms That Reduce Stress And Anxiety
3.1 Chrysanthemums improve mood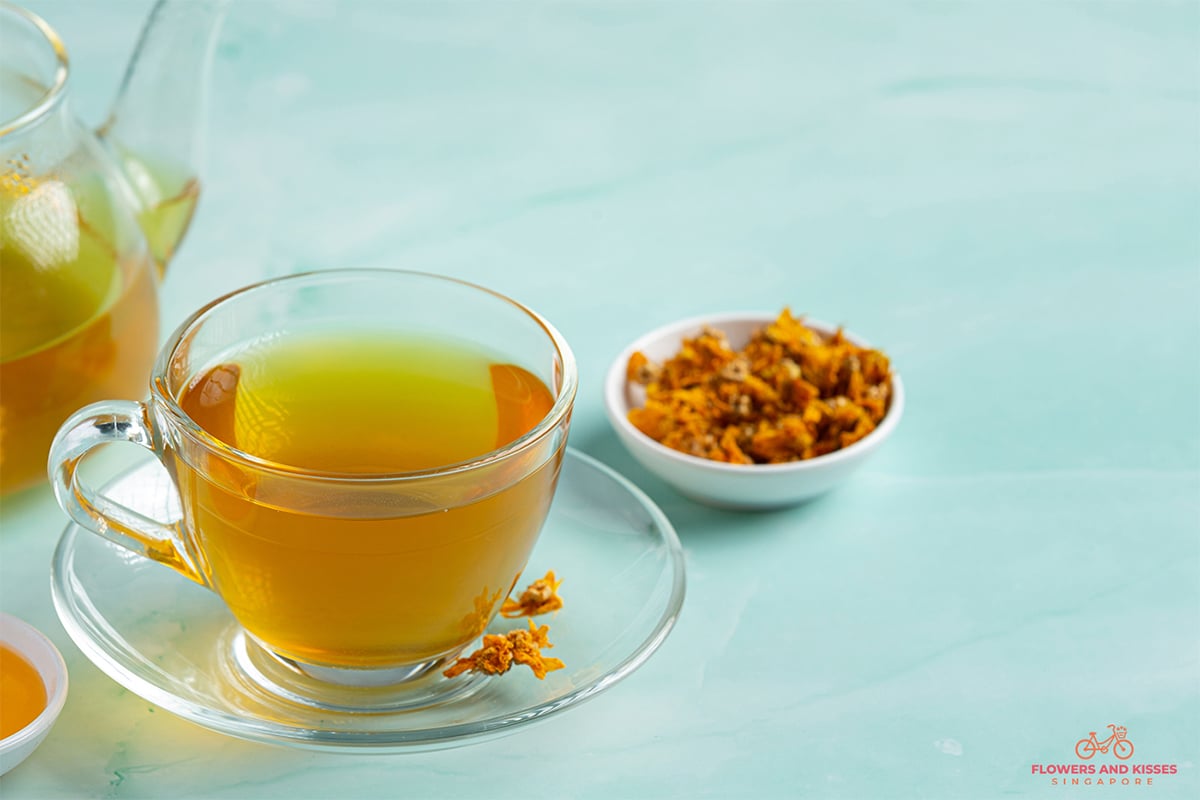 There are flowers that do more than just brighten your home, some can actually have an uplifting effect on your mood too.  As a matter of fact, a behavioural research study revealed that people who live with flowers report fewer episodes of anxiety and depressed feelings. There are certain flowers that can help people escape feelings of anxiety and worry, making them feel less troubled and agitated. It could be attributed to the flower's colour, scent, or even to the act of giving or receiving flowers. For instance, Chrysanthemums are one of the flowers that have been shown to relieve symptoms of worry and stress. When taken as tea, this flower is able to cool and relax our bodies. Chrysanthemums have also proven to be effective at purifying air, which makes them an excellent addition to your living area to help you relax after a long day at work. By removing toxins in the air, it helps our bodies relax a little more too.
Covid-19 has affected many businesses, but it has also caused a botanic boom in Singapore. More and more people are devoted to taking care of plants to alleviate stress. So if you haven't been feeling your best, it's time to spruce up your homes and workspaces with flowers and greenery!
3.2 Snake Plants increase productivity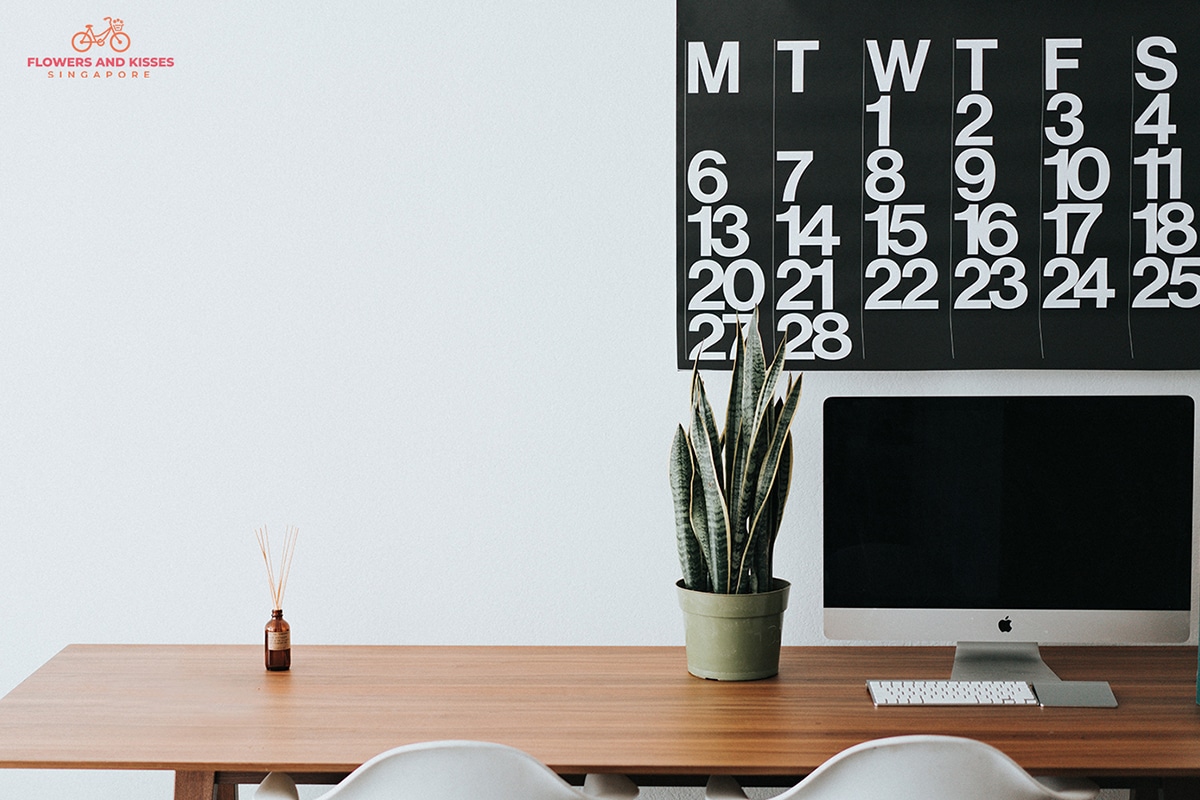 Indoor plants at the workplace are a terrific way to improve mood and productivity, reduce sick days and work stress, and bring a touch of nature into the area where you spend eight hours a day. There's a reason why most successful organisations are incorporating indoor plants, vertical gardens, and courtyard landscaping into their office interiors. Most of us feel most relaxed when we're in natural environments, which is why adding natural elements, like flowers or indoor plants, into our workspace can help in mental recovery and stress relief.
When considering the type of flowers or plants to place in your workspace, it's important to find something that requires minimal maintenance. The humble Snake Plant is one of the easiest indoor plants to care for, and they can help refresh stale office air too! The advantages of having indoor plants in the office run deeper than just aesthetics. Its pointed, sword-like leaves will have you feeling energised and effectively reduce feelings of anxiety as well as respiratory issues. On top of that, Snake Plants also have the ability to remove toxins such as formaldehyde and benzene, making them natural air purifiers. They're easy to care for and require very little watering. One of the best things about Snake Plants is that they can thrive anywhere, even if your workstation does not receive much light. So if you're working in a fast-paced environment, getting a Snake Plant can improve your productivity levels at work!
3.3 Lisianthus encourage creativity
Creatives have always sought inspiration and peace in the outdoors. However, they don't always have the luxury of time for outdoor activities. That is why more people are looking into improving their creative workspace by peppering it with fresh floral arrangements that can enhance their creative ways of thinking. Those who are working in the creative industry may want to look into decorating their space with Lisianthus. Lisianthus flowers aren't just pretty to look at, but they can inspire creativity and spark fresh ideas. Apart from Lisianthus, creatives may want to consider adding some red florals into their floral arrangement too as it can enhance concentration and attention to detail.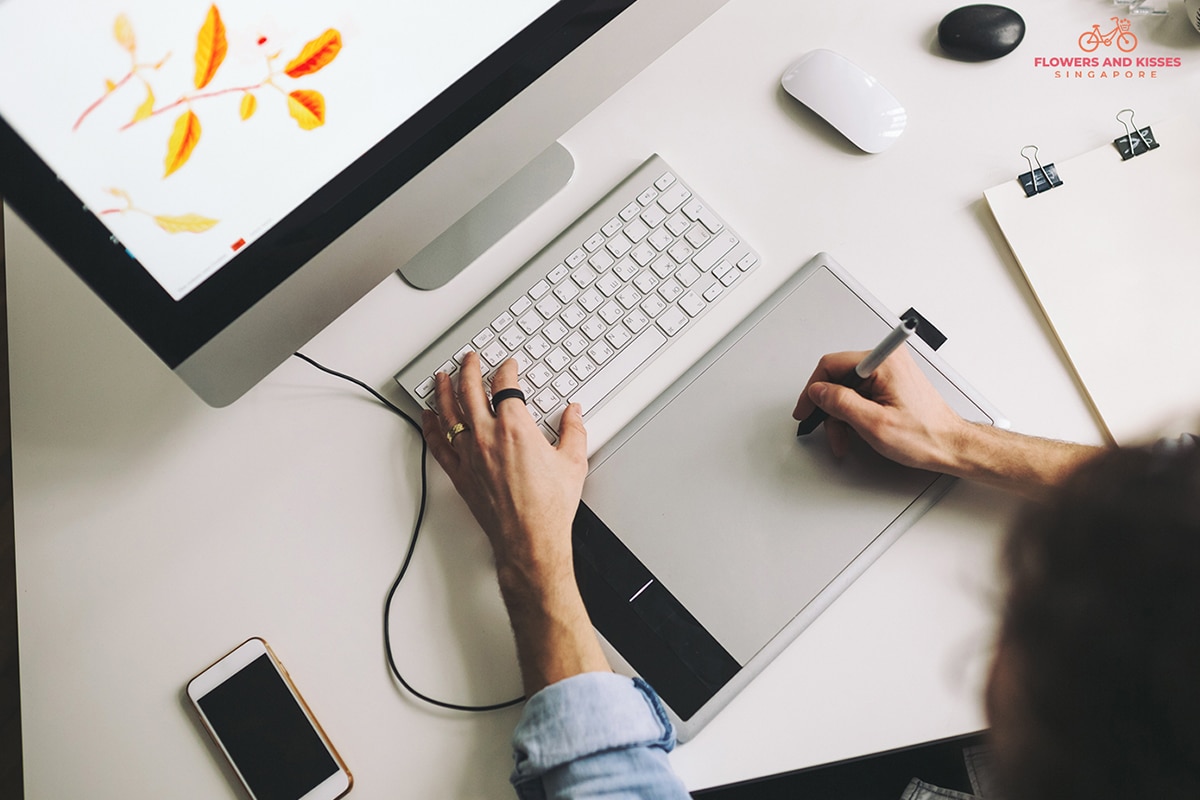 Today, creative workers make up a bigger part of the economy than they ever have, due to developments in technology, the rise of gig work, and the shift in norms following the Covid-19 pandemic. So, if you know a friend in the creative field, this is the best time to send some Lisianthus flowers their way if you're looking to get a birthday flower bouquet for them. Even if their birthday has passed, a surprise flower delivery especially at a time like this is always a good idea.
3.4 Jasmine aids sleep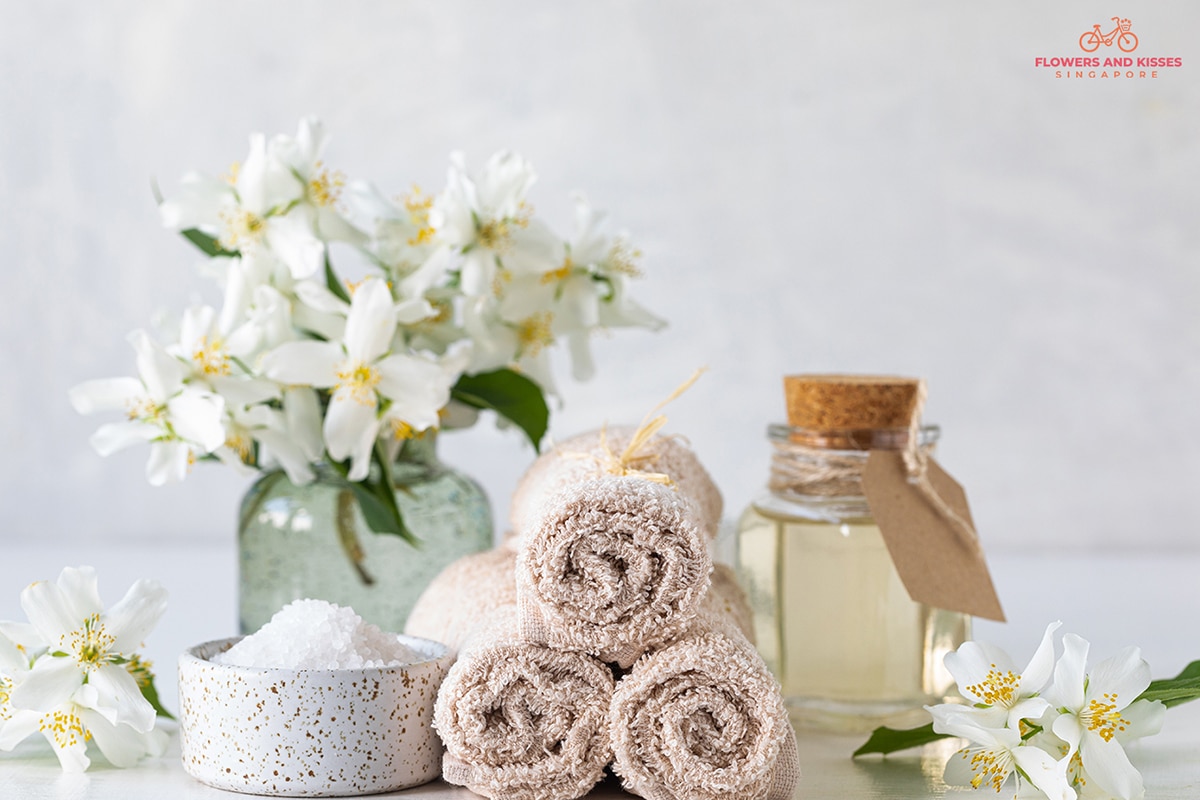 Jasmine flowers are the ideal addition to your bedside table as they promote a night of restful sleep. It's best known for its sweet and distinctive scent that can help ease the body from feelings of anxiety. Being surrounded by Jasmine flowers will make you feel more calm and relaxed. If your partner has trouble sleeping at night, consider sending them a bouquet of Jasmine flowers instead of the traditional rose bouquet for a change.
Jasmine flowers are best planted in a warm and sheltered area, so placing them by your bedside or next to your windows would be most ideal. Remember to water them regularly during flowering periods and during non-flowering periods, you can let the top of the soil dry out slightly to avoid overwatering. Even if you don't have a green thumb, you can still incorporate Jasmine flowers into your bedroom by using essential oils. Jasmine oil is widely used in aromatherapy and may affect a number of biological factors including heart rate, stress levels and blood pressure.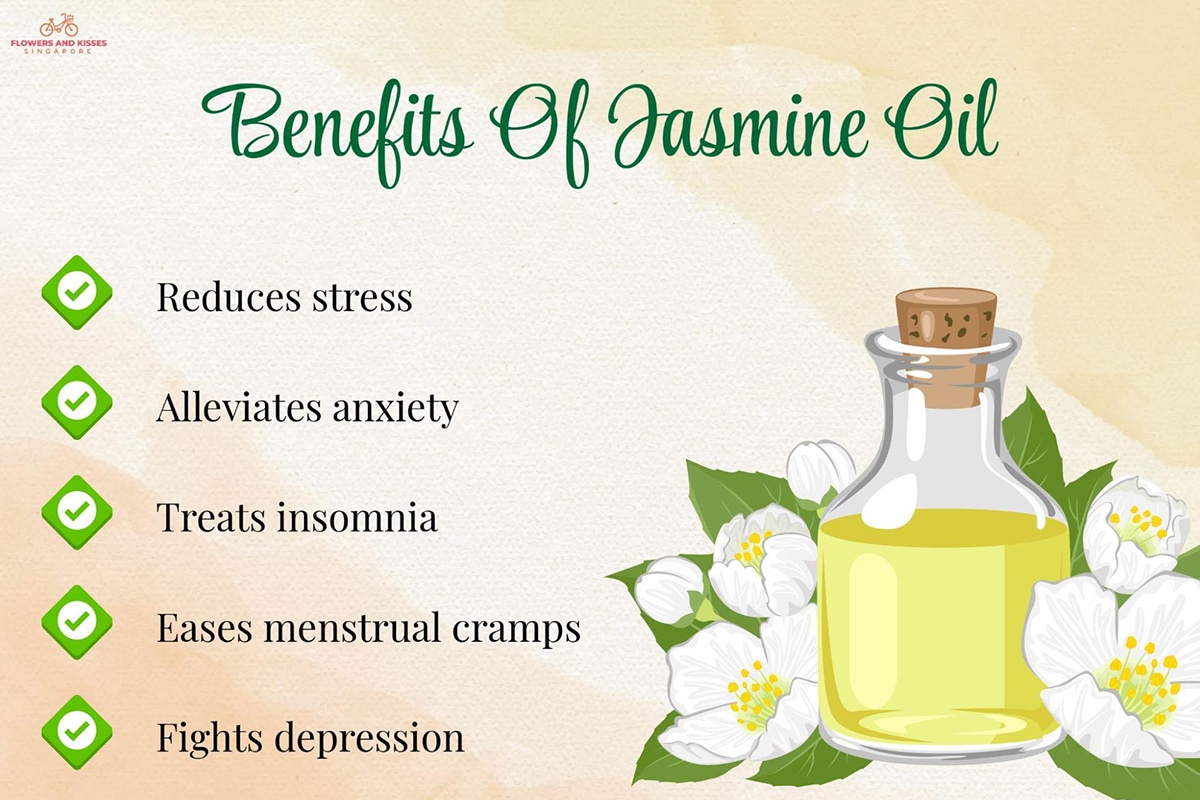 Part IV: Improve your mental health with fresh flowers
For centuries, fresh flowers have easily been one of the best gifts to give, and it is easy to see why. Important occasion or not, a surprise bouquet of flowers will never fail to raise a smile and lift spirits during challenging times. The arrangement of flower bouquets, as well as the colour and type of bloom you select, all work together to express different messages. It's interesting to see how different flowers carry special meanings and how they convey different messages. Generally, flowers are a symbol of love and care. But these floral gifts can be amplified and differentiated further to tailor them for specific occasions: anniversary flowers, flower bouquets for birthdays, get well soon flowers, and condolence flower stands.
Despite the fact that flowers can be very personal in terms of colour, type, and arrangement, they're also a simple gift to send if you're not quite sure what to get. If you are not familiar with a person's tastes but wish to express your appreciation or congratulations, send flowers! Just be sure to do a little research before purchasing them to avoid sending flowers that may send the wrong message. Otherwise, the best thing to do is consult an online florist. They have the best knowledge when it comes to floral arrangements for any occasion at all.
We hope this inspires you to send fresh flowers to your loved ones today to help tide them through this difficult period. We can make it easier for you to surprise your loved ones by delivering your flower bouquets for free* on the same day in Singapore!
*We offer free delivery fees to all locations, except Sentosa and Tuas.