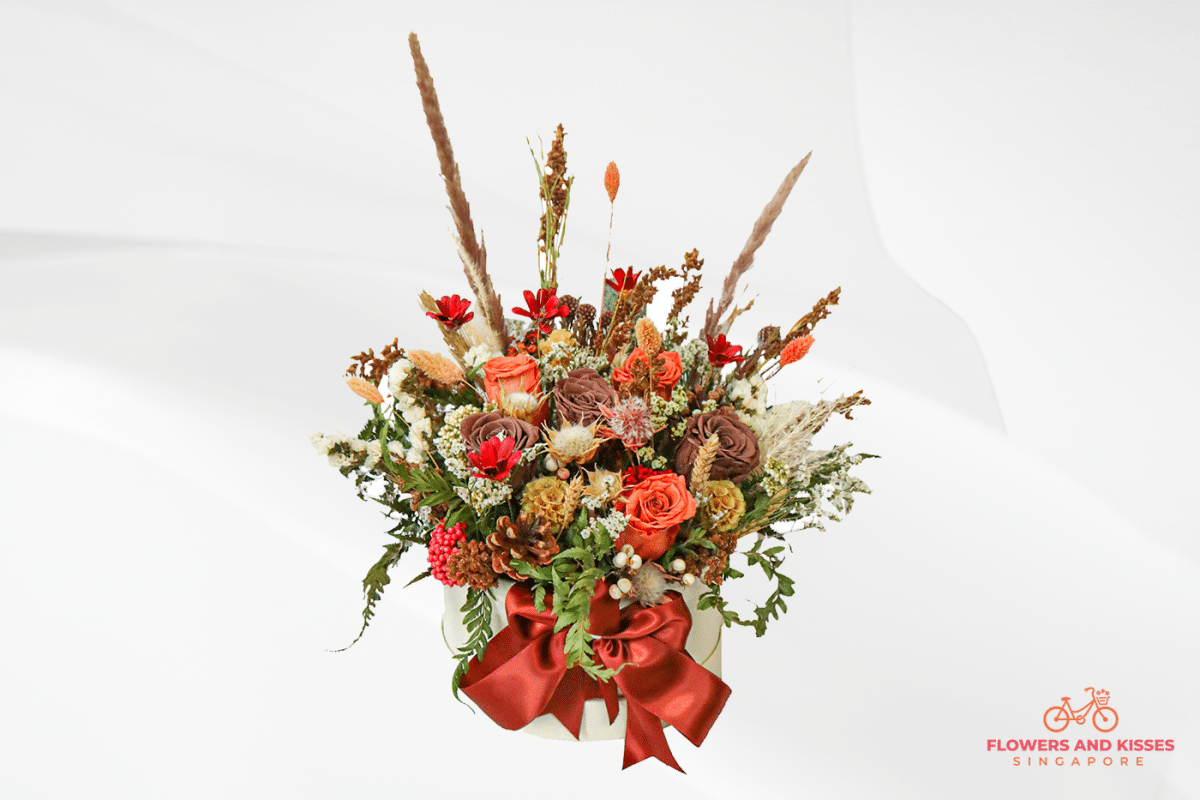 Fresh flowers boast beautiful colours and scents, but they only last for a short while. There are ways to help fresh flowers last longer, but they can still only be enjoyed in that state for a short period of time. If you are looking for a gift or a piece of flower décor that will last for a long time, then it is time to look into professionally preserved flowers.
While you may have tried to dry your own flowers after they've passed their expiration date, professionally preserved flowers not only last longer, but also maintain their shape, colour, and appearance, looking just as perfect as they did when they were fresh. In case you are planning to give flowers for your wedding anniversary or a birthday flower bouquet to someone who enjoys low maintenance flowers, here are 5 reasons why preserved flowers are the way to go.
1. They are practical
It's a pity when beautiful flowers are wasted and thrown out. One of the best things about preserved flowers is that, once they are purchased, they won't lose their beauty. You have plenty of time to display them, gift them, or place them in a special spot as part of your home decor.
For someone who has never had time to deal with ordinary flowers, they can now enjoy them on their own terms with preserved flowers. Leaving preserved blooms alone for extended periods of time will not alter their appearance – making it the perfect solution for those who do not have the time to handle fresh cut flowers.
2. They are long-lasting
With proper care, preserved flowers can last for 12+ months. This means that they will last up to 50 times longer than ordinary flowers. Whether they are given for a birthday flower bouquet, wedding anniversary, or annual holiday, they'll last until the next one or even longer! This can turn flowers from a thoughtful gift into a lasting memento that will continue to bring joy for months to come.
Preserved flowers may therefore be preferred as decoration than ordinary flowers, which wither quickly, or artificial flowers, which never feel authentic enough. In addition to their long shelf life, they offer other benefits, such as economic and practical benefits.
3. They are economical
Besides the fact that preserved flowers last longer than ordinary flowers, they are more economical for multiple reasons, especially for people who can't imagine the world without flowers around them. These flowers don't need constant replacement, so they are a great gift for a frugal friend who appreciates flowers, but is hesitant to invest in fresh-cut flowers constantly.
4. They are eco-friendly
It's worth noting preserved flowers' impressive environmental impact. Earlier, we talked about how long they can last compared to ordinary flowers. Consequently, the amount of resources required to maintain them is significantly less than replacing ordinary flowers multiple times.
This reduces the need for water, fertilizer, and soil. The ease of storing and transporting them means fewer waste products end up in landfills, and they reduce energy consumption. In the eyes of an eco-conscious individual, preserving flowers as gifts for a wedding anniversary or for any other occasion is a great idea.
5. They are a unique gift idea for any occasion
As opposed to their ordinary counterparts, florists that prepare preserved flowers typically devote a lot more time and attention to them. The long-lasting nature of preserved flowers makes them a worthwhile investment of creativity. The preserved flowers at Flowers & Kisses come in a wide assortment of colours, accents, finishes, and arrangements. These beautifully preserved flowers can leave a strong impression on anyone.
Having carefully arranged and chosen them leaves an impression of thoughtfulness and investment. They will be part of somebody's day and décor for a long time. They won't last forever, but they will endure long into the future, much longer than ordinary flowers could.
Getting Preserved Flowers For Your Next Birthday Flower Bouquet Purchase
The natural benefits of preserved flowers far surpass those of ordinary flowers. These flowers are all-natural, but they've been preserved to keep them fresh and beautiful for a minimum of 12 months.
Chances are, you would most likely not be able to distinguish preserved from fresh-cut flowers. Their vibrant appearance and elegance are not compromised, but they also have a variety of other benefits. Discover the different styles of preserved flowers carefully arranged by our online florists when you browse our range of preserved flowers – some can even last up to five years!
Contact us today and let us know your preferred floral arrangements, we can deliver your bouquet for free* on the same day in Singapore!
*We offer free delivery fees to all locations, except Sentosa and Tuas.