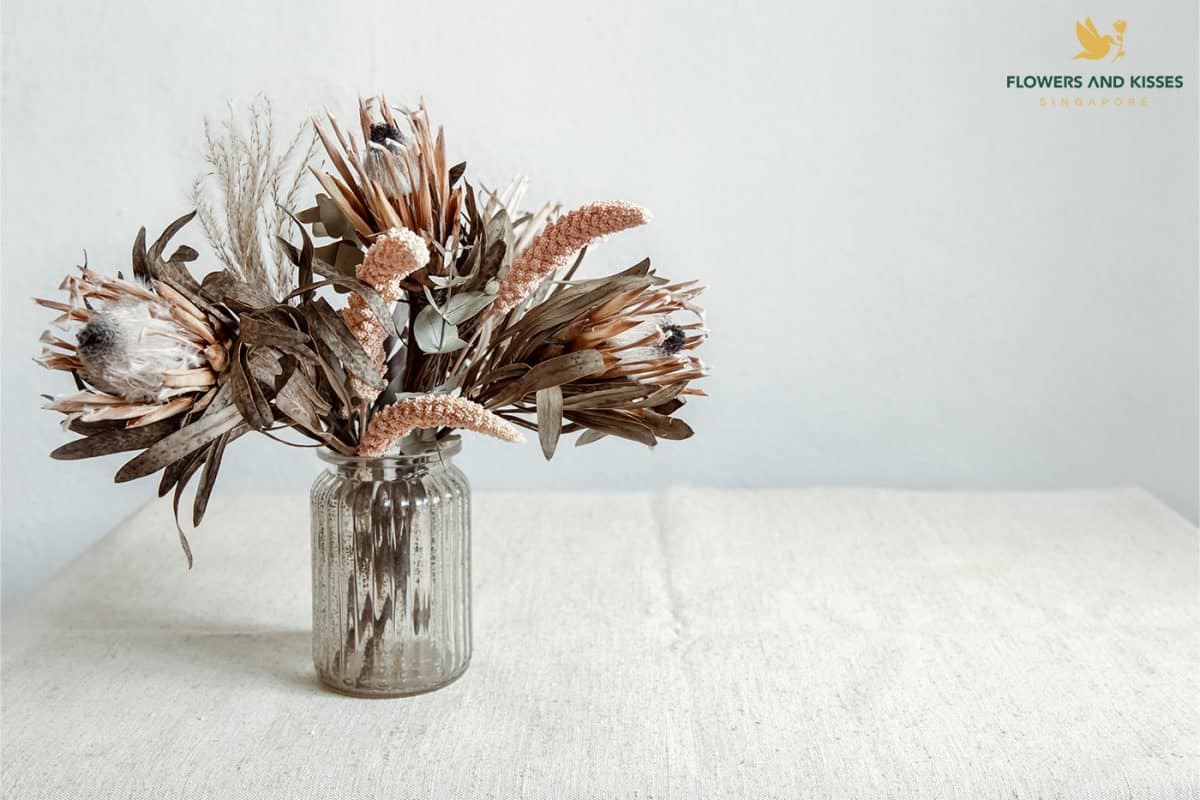 Contrary to what some might believe, dried flowers are not the same as dead flowers or wilted flowers. Dried flower bouquets are made from flowers that were once fresh, preserved using a drying method that dehydrates the flower. Whether it's from a birthday bouquet or your wedding ceremony, dried flowers can be made into a keepsake, preserving both its sentimental value and beauty. Moreover, they serve also as lovely floral decorations for your living spaces. Ever wondered how you too can immortalise the beauty of your floral bouquets? Flowers and Kisses is an established online florist in Singapore, and this article shares some tips to turn your flowers into vintage art.
Keep out of direct sunlight
Too much time in the sun will cause the stems of your dried flowers to lose their colour. Bright light and direct exposure to sunlight can also be harsh on delicate blooms. To keep your dried floral arrangement from fading, place your bouquet in a shady space such as indoors away from harsh environments. For an extra layer of protection, you may consider spraying your dried flower bouquet with an aerosol UV protectant from your local art supply store.
Learn more: Everything You Need to Know About Dried Flowers | Flowers and Kisses
Place your dried flowers in an opaque vase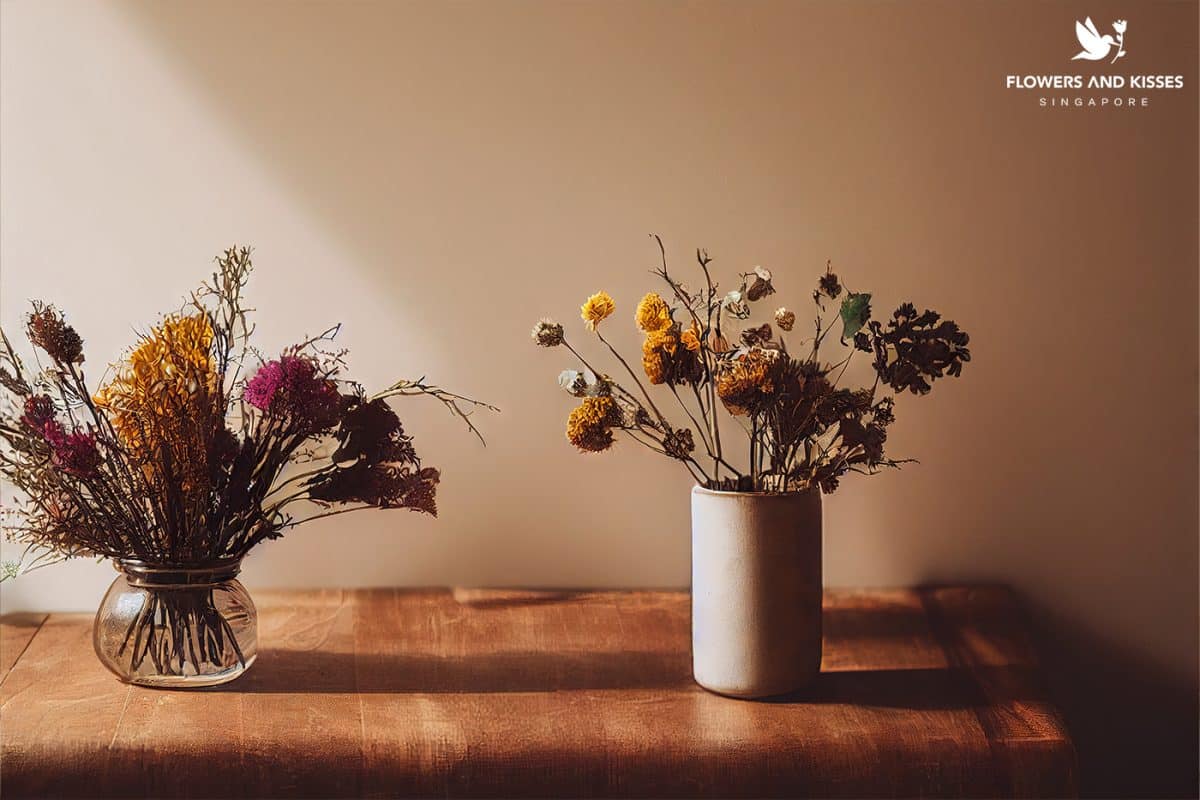 Flowers placed in a glass vase without water could appear strange. Hence, we recommend placing your dried floral bouquet in an opaque or ceramic vase. The neutral colour will contrast well with your dried flowers such as baby's breath bouquets. Bear in mind that dried flowers do not like humidity. For this reason, water must be avoided at all costs. This is good news for those who would like to put their vases that do not tolerate water into good use.
Ensure good airflow at all times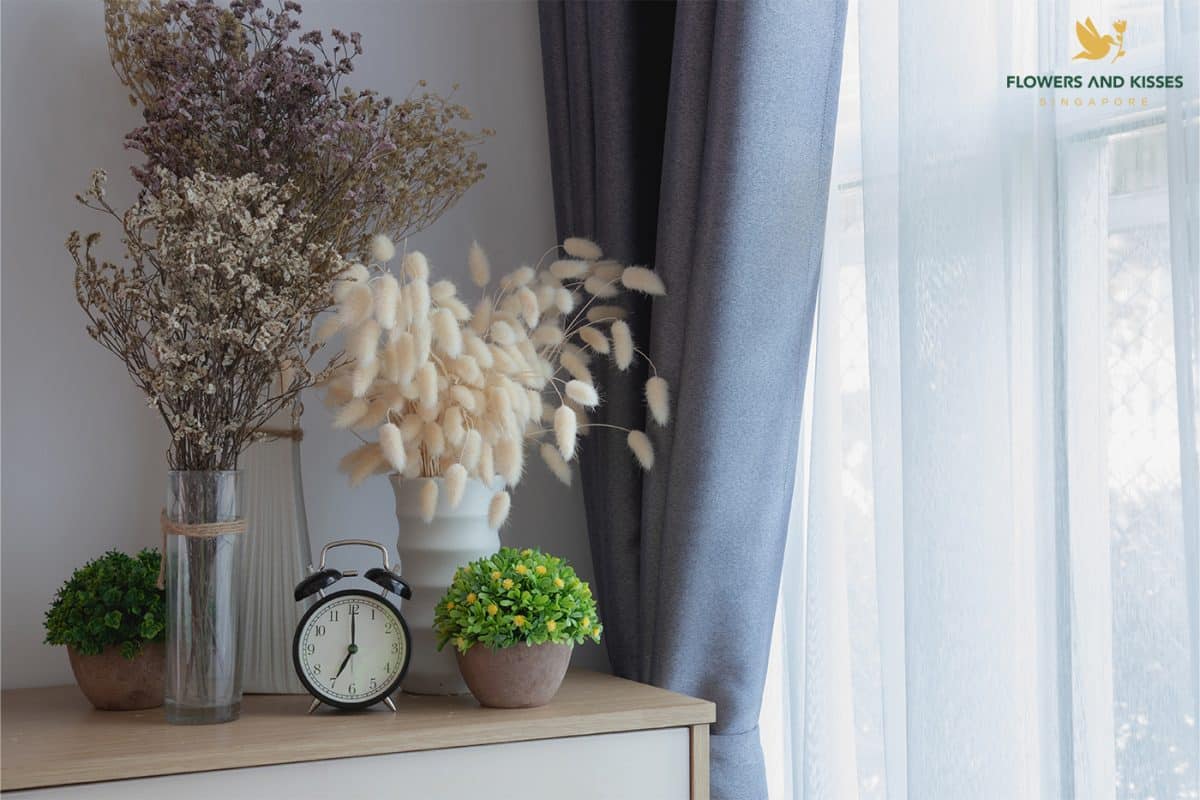 Ensure good airflow around your dried flowers and prevent temperature fluctuations. Dried bouquets don't require airflow directly from an open window but may become moist if stored in a room with humidity. This could lead to growth of mould on your blooms. Vases can also capture moisture and humidity within them so take note to check the stems within the vase now and then, making sure that they're nice and dry.
Remove dust with a feather duster or hairdryer
To rid your bouquet of dust, use an old-fashioned feather duster to clean your dried flowers. This method works best on the sturdier arrangements, or alternatively you may also choose to use a hairdryer. Bear in mind to set it on a low speed with a cool temperature to prevent damage to the flowers whilst gently removing dust from your foliage.
Now that you've been equipped with these tips, you too can maintain your dried flowers to ensure its longevity and allure with ease. Take your time to preserve life's precious moments by creating a dried flower bouquet from your selection of fresh flowers.
Looking at exploring the option of dried flower bouquets? Flowers and Kisses carries a range of styles for every occasion and preference – speak with our team of online florists today to find out more!